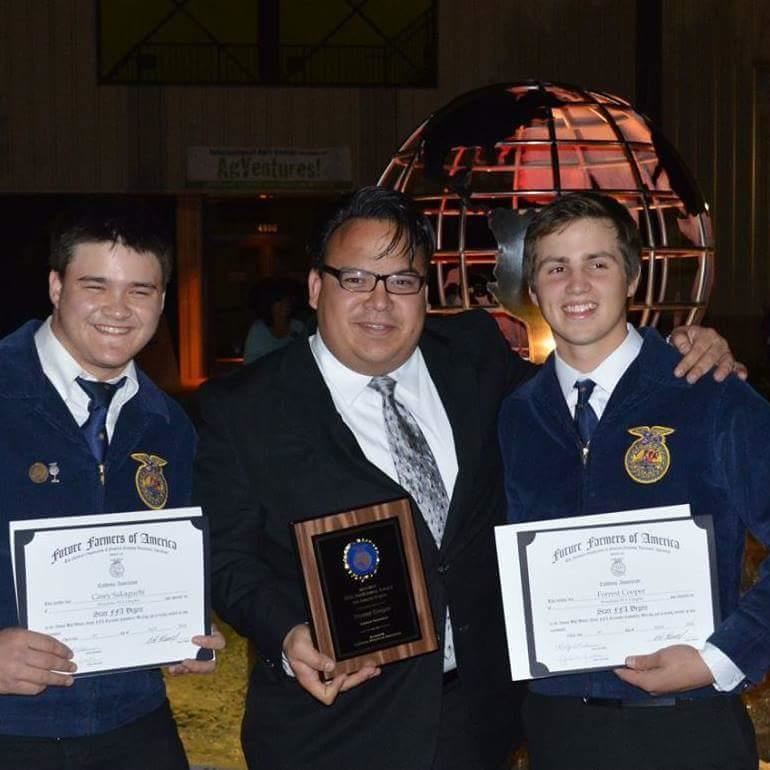 Phone: 661-720-6607
Email:
Degrees and Certifications:
Bachelors of Science, AgricultureHonda Certified Master TechnicianNCCER Craft InstructorOSHA-10 InstructorSP-2 Lead
Mr.

Ernesto Marcial

Agriculture Department Chair

Greetings!

If you've made it this far you've taken the first step in ensuring your success as both a student and parent stakeholder. Thank you for taking the time to visit my website. Let's take the time to better understand each other.

First of all let's give you the basic details:

My name is Ernesto Marcial, but you'll hear the students call me Mr. Marcial or Mr. M, either will suffice. I am a graduate of Cal Poly, San Luis Obispo with a Bachelor's of Science in Agricultural Science with an Emphasis in Education(Master's currently in progress). GO MUSTANGS!!!

Prior to teaching I worked as an Olive Farmer in the Shasta/Tehama County areas. My roles including everything from General Labor, Fabrication, Maintenance and Re-design of Industrial Equipment, Harvesting Equipment, Trailers, Tractors and Other Agricultural Implements. My last role prior to going into teaching in 2013 was as the Field Operations Manager for a small family farming operation based out of Orland, CA.

I am a strong advocate for Career Technical Education and the role it and The FFA (Future Farmers of America) Organization play in developing their potential for premier leadership, personal growth and career success through Agricultural Education.

My teaching philosophy is very basic, your student is a diamond, it is our role as a team to help develop that young person's potential and provide them with the necessary tools to succeed in an ever-changing society.

Some things you should know about my classroom:

I believe learning should be fun and love technology. In my classroom you will see me incorporating: Classflow, Microsoft Office 365, Quizlet, Kahoot, AET, Remind, Honda Master Tech Training Portal and other digital platforms in order to engage students in 'technologically engaging' learning that utilizes pre-existing knowledge to build a fundamental baseline of skills necessary to Apply Concepts throughout a myriad of Disciplines and Skill Areas.